PayPal or Amazon Payments.
With any of these 3rd party payment processors you can use a credit card, debit card, or your checking account to fund the account and pay your bill; signing up only takes a few minutes and it's completely secure. Using a 3rd party payment processor actually gives you much more control over your payments to us. Your financial details are never shared with us, and are safe with whichever 3rd party processor you decide to use.
Complete your payment transaction in just a few steps!
To use the same payment method (or the default of PayPal*):
You can use the "Pay Now" button/link contained within the invoice reminder email to go straight to whichever payment processor you've previously used, without having to login to the Client Portal! There's always a .pdf invoice attached to every email reminder we send, so you can review your invoice and keep for your records.

Use the "Checkout" button for a one time payment, and the "Subscribe" button to create a subscription, or automatic payment. PayPal is used for this example, but Amazon Payments should have similar options.

* If you haven't specified a payment method your account will be set to the default of PayPal, since that's the payment processor most people are familiar with. You are welcome to change your payment method at any time.
If you need to change your payment method:
1. Login to your account in the Client Portal
Client Portal Login: https://helloworldweb.com/clients/clientarea.php

2. Go to the invoice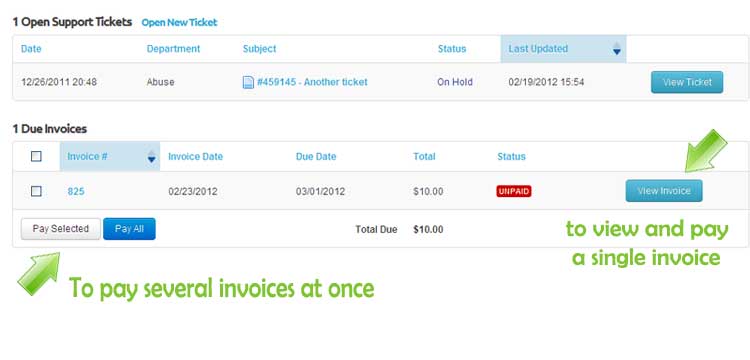 3. Change your payment method from the drop-down list in the upper right corner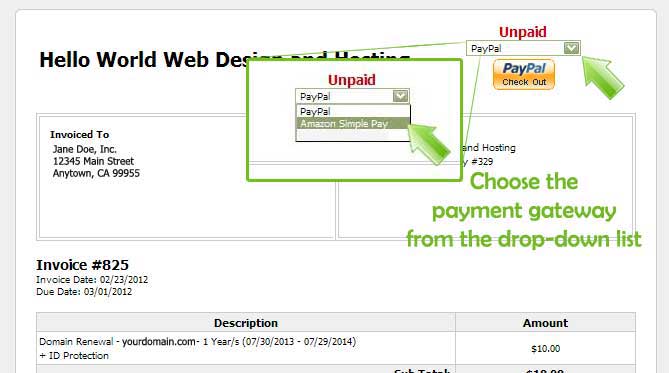 4. Click the button to be taken to the payment gateway.

5. Login to the payment gateway to complete your transaction.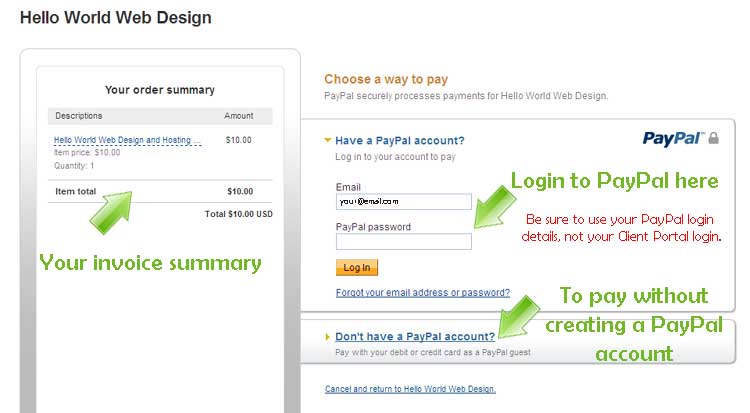 6. Verify the amount is correct, then click "Pay Now" button at the bottom to complete the transaction.
Before you submit your payment online: Please double-check to make sure your address and zip code are correct and match between what is listed in our billing system (your Client Portal), the payment gateways' records, and your funding source (bank, credit card, checking account, etc). Also check to make sure your credit card hasn't expired.

This is the number 1 reason why electronic payments (including PayPal Subscription payments) fail, because the records don't match! This is a security fraud check measure, and is for your OWN protection. If you've moved or any of your credit card information has changed, you need to change it in all three places, so all records match:


With your bank and/or credit card;
With the payment gateway you use (PayPal, Amazon Payments);
and in your Client Portal account, which sends over your information to the payment gateway.
Last Modified: June 6, 2014