How to Pay your bill without creating a PayPal account
PayPal Guest Checkout: A One-Time Payment, No PayPal Account Required
For those who don' want PayPal to retain their personal information, and/or don't want the hassle of creating a PayPal account, you can pay your invoice using the "Guest" payment option. Like PayPal Checkout, this is a one-time payment option. It's an extremely simple process, the hardest part is remembering it needs to be done with each invoice, as long as you don't mind the minor inconvenience of logging in each month to manually authorize the payment.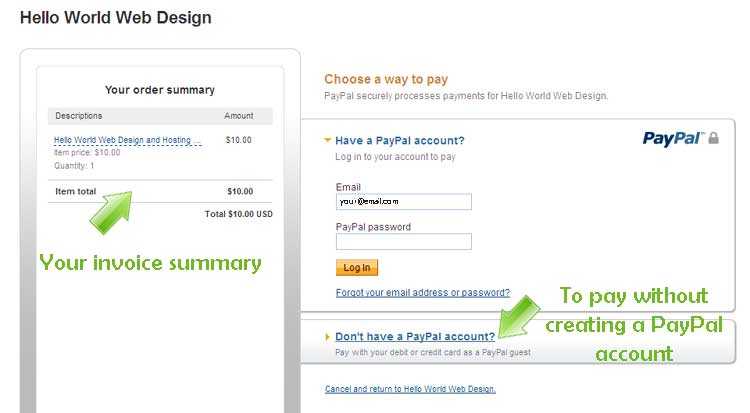 Expect PayPal to limit the number of times you can use their gateway as a guest (without creating an account). Currently they allow the use of guest checkout up to 15 times before requiring you to create an account.
If you have trouble using your credit card through Guest Checkout...
From PayPals' FAQs: I do not have a PayPal account and my debit or credit card is being denied.
PayPal's process for accepting credit cards payments is rigorous. This helps prevent people from paying for things with stolen or unauthorized cards. The screening process is complex and, on rare occasions, it will impact valid cards.
If you know your card is valid but your payment still doesn't go through, we suggest that you try another credit card or try your transaction again later.
Another option is to pay with your bank account. Paying with your bank account is a quick and easy way to keep track of spending and avoid using your credit card. If you do online banking, it usually just takes a few minutes to link your bank account to your PayPal account.
We try to provide as much information as possible to help our clients, but any PayPal specific questions should be submitted to PayPal support.
Last Modified: June 27, 2012